Wellness Wednesday Podcast
The podcast that brings you bite sized health information that you can use to facilitate positive change in your life or in the lives of those you serve.
Picture it, America 2020, a glabal pandemic ! The Wellness Wednesday podcast began in 2020 during Shelter in place in the midst of the Sars-CoV-2 pandemic. It has since grown into a community that values wellbeing, holds healing space, and fosters positivity. According to spotifiy wrapped analytics, as of Nov. 2022 the podcast is in the top 30 percent most shared podcast globally on spoitfys streaming platform. Dr. Andrew DeGroat, ND (he/him) uses the platform to discuss health related topics for educational purposes. He collaborates with special guest, some of whom are experts, authors, and entrepreneurs who all share a passion for helping others.
The Wellness Wednesday Podcast is non monetized, episodes can be independently sponsored. Topic request, and guest/media request are reviewed regularly.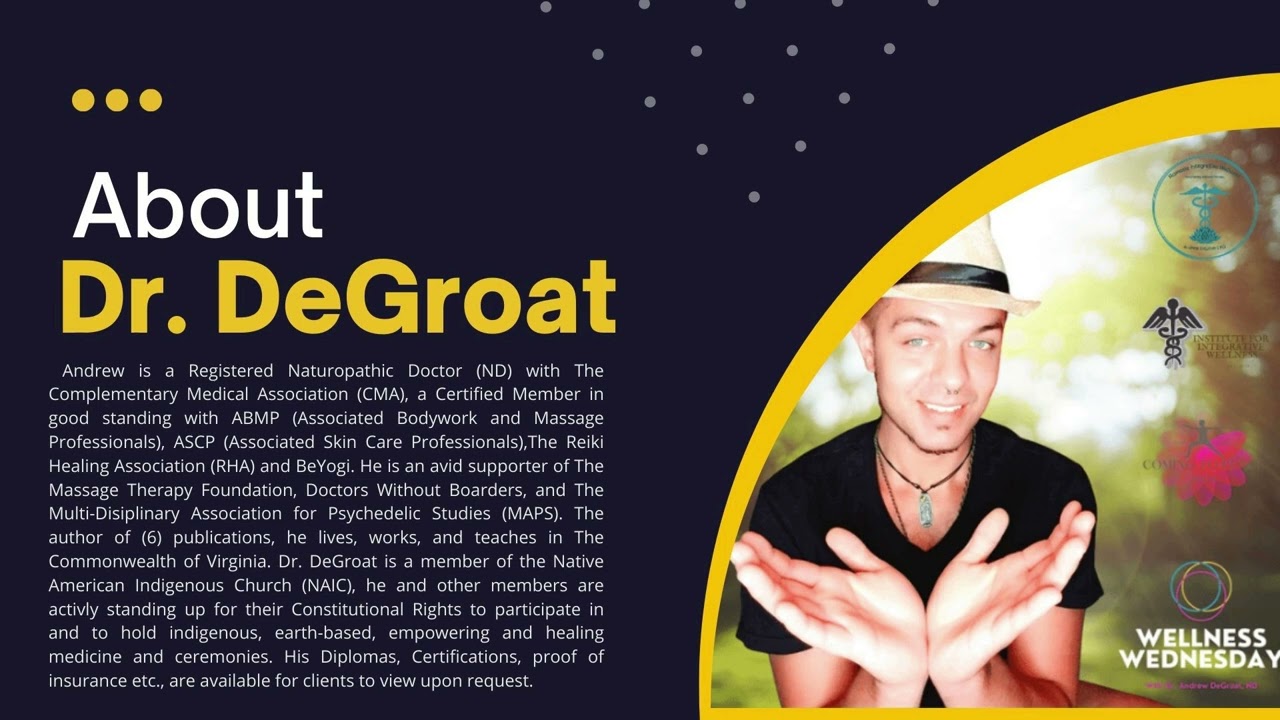 Have a message you want to share???
From birthday shout outs to anniversaries, graduations and everything inbetween, you now have a chance to share that message with your loved one or whomever it's intended for via the Wellness Wednesday Podcast on all its streaming platforms!
click here to learn more or submitt your Shout Out
Season 4 Episode 35
Wed. May 17, 2023 @11am est.
This season begins the series 'Words 4 Wellness' which utilizes the power and meaning of words to enhance the wellbeing of the body, mind, and spirit. Most of us have heard the saying 'words are powerful things...' but did you know that there is credible scientific research that proves it? The host invites you to follow along through the series and encourages you to use the words (and the concept of 'Words 4 Wellness') as a tool in your health arsenal. Other topics include: Coming To Peace, Mental Health Resources in FXBG and interviews/conversations with special guest.
Michelle I. Martin

Isa Guccaridi, PhD

Laura Chandler

Michelle Wagaman
One year after 'shelter in place' is lifted in the United States the Wellness Wednesday podcast journey continues with a second season. Providing podcast viewers/listeners insight in regards to pain & posture, healthy movement, sleep hygiene, dream interpretation, and Wind work. Together special guest and Dr. Andrew DeGroat, ND offer valuble resourses that can assit in the healing process.
The 'Words 4 Wellness' series ends along with season 2 of the podcast. Did you follow along through the series? Did the words (and the concept of 'Words 4 Wellness') help you?
Renee Baribeau

Emily Stewart

Melissa De Los Santos

Laurie DiGiulio
Every body is different as is every individuals level of health and wellness. Through concious effort, awareness, and vigilence more informed choices can be made, improving overall experince, quailty of life, and health outcomes. Season 3 is full of converstaions and interviews with world renowed experts and special guest alike. Episodes include discussions of: Conquering the Undertow, The New Return to the Great Mother, cancer prevention, heart health, endometriosis, sexual assult, skincare, skin cancer prevention, water saftey, Idependent retailers month, Finanicial Wellness, Namaste Integrative Wellness Aproved Supplier List (NIWAS), Native Heritage, Emotion literacy, suicide awareness & prevention, PTSD, Reclaiming Pleasure, headaches & migraines, ACE's Study( including the test, score, and implications), Self development & education, and the importance of Immunization.
Suzanne Renee

Thomas Johnson

Isa Guccaridi, PhD

Laura Chandler

Pierrce McCoy

Dr. Marci Catallo-Madruga

Chris Poorten

Marshall Manlove

Harini Shankar

Alanna Kaivayla, PhD

Salor Johnson III
Michael Reynolds

Dr. Holly Richmond, PhD

Ruth Werner

Dr. Lee Phillips

Andrea Nicholson

Brittaney Valentino

Dr. John Stamey

Emma Nottage

Johnna Emmerck

Pamela Sackett
Brittaney Valentino

Allision Denney

Laurie DiGulio

Alani Ray

Theresa Williams

Salor Johnson III
Laura Chandler

Isa Guccaridi, PhD

Andrea Nicholson
an exclusive 10 part video series for members of Namaste Wellness
It is a scientific fact that gratitude is at the root of all positive emotion, that human emotions directly impact human experince, and that psychological and physical health are interdependent with emotional experiences. Emotions all lead to the production/regulation of endogenous hormones and neurotransmitters. Simply put how we feel and think directly impacts not only our health/healing, but how we as a species (living beings) express ourselves on a biological level. This video series was developed by Dr. Andrew DeGroat, ND as an accessible and practical resource for anyone looking to improve the quality of their lives. Click the episode, Join the group, enjoy.
Created by: Dr. Andrew DeGroat, ND | Namaste Integrative Wellness LLC